These Snowman Cupcakes Are Cupcake # 4 in…
"The 25 Days of Christmas Cupcakes Challenge"
Frosty the Snowman is an all time favorite of mine from my childhood. So jolly and fun to watch. I still love watching the frosty cartoons when Christmas is near. It just fills my heart up with wonder of Christmas. My children loved watching the fun and happy snowman as children also. Always sad to see him melt though. These snowmen cupcake will melt also but only while you are eating them!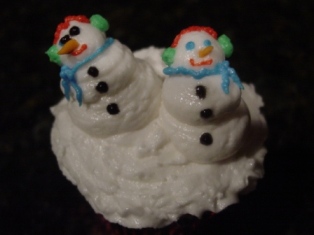 Two cute figure piped Snowmen embellish this cupcake. The skill level to create the snowmen is set at Easy Peasy…
The icing used here is the pro cake decorators icing recipe
What You Will Need to Decorate The Figure Piped Snowman Cupcakes:
Pre Baked Cupcakes
Cupcake Liners "Red Foil Cupcake Liners Are Used Here"
Pro cake decorators icing
black piping gel
red colored icing
blue colored icing
green colored icing
#12 piping tip
parchment or wax paper
How To Decorate The Figure Piped Snowmen Cupcakes:
Start by icing the top of you cupcakes with a spatula. Give it a bit of swirl so it resembles a snowy ground.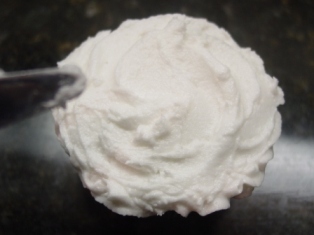 Next, fill your cake decorating bag using the # 12 figure piping cake decorators tip with white icing.
Using medium pressure, start to build your snowmen one snowball at a time making each snowball just a bit smaller with each one.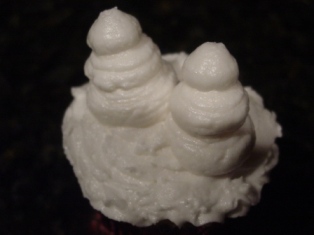 Next, pipe on the eyes and buttons using black piping gel. Using your red and green icing, create the ear muffs. Using orange colored icing or fondant create the carrot shaped nose. Using the blue icing, create a cute little scarf to help keep your snowmen warm:)
Want More Great Ideas?