The Figured Piped Santa Cupcakes
are # 3 in….
"The 25 Days Of Christmas Cupcakes Challenge"
Santa Would Be Proud, But I wouldn't leave these for him on Christmas Eve..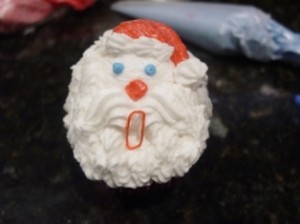 These jolly Santa cupcakes are easy to do. I give them a skill level of
SUPER Easy…
The Santa head is all icing and is figure piped using 3 different cake decorating tips.
Only two food colors are needed so that save time in mixing colors. This Santa has blue eyes but looks really cute with green ones also. I also find that using the no taste red food color works much better than the Christmas red food color. You will get a much deeper red color using the no~taste red. The Christmas red comes out too light and looks more like a pinkish color.
What You Will Need To Decorated The Santa Cupcake:
pre~baked cupcakes

cupcake liners

professional cake decorators icing

red food color

blue or green food color

Cake Decorating Tips # 18, # 21 and # 4b

Wax or Parchment paper for the mouth. "I find it best to use the wax or parchment verses the tip for this, you can make much thinner string work."
How To Figure Pipe The Santa Cupcakes:
Start by icing the top of your cupcake with just a thin layer of icing.
Next, Take your large piping tip and begin piping the Santa head. Use medium pressure and move up at medium speed.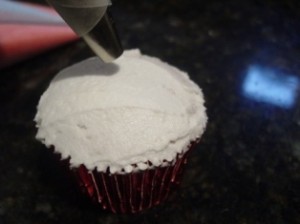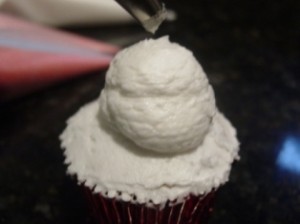 Next, using tip # 21 start creating the Santa beard, hair and mustache.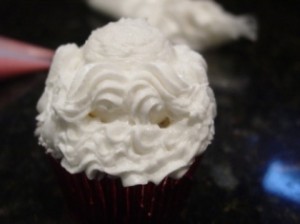 Next, start figure piping on the Santa hat.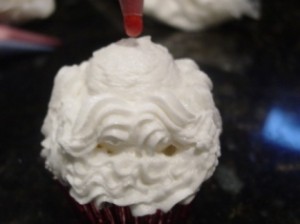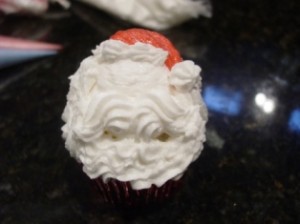 make a small hat rim and fuzzy ball on the Santa hat using the # 18 star tip.
Next pipe on a red nose and blue eyes..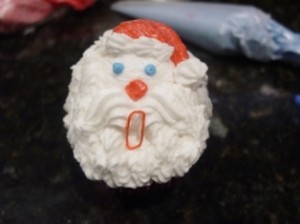 HOHOHO….
Want More Great Ideas Sent To Your Email In Box?