How To Make Rolled Fondant:
Rolled Fondant is such a beautiful way to decorate cakes and cupcakes.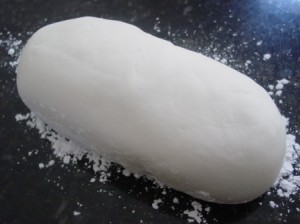 There are so many things you can do with fondant and so many fun creations you can come up with. All you really need is a great fondant recipe, the know how to make it the right way and your awesome imagination.
In this post your will learn exactly how to make rolled fondant from scratch in your own home kitchen.
First we will begin with the list of ingredients you will need to make your fondant.
Next you will see an outline of the written instructions.
And finally you will be able to watch the video tutorial so you can have a visual on how to prepare the rolled fondant. I have found that most folks like to learn from watching so this "How To" video should help out quite a bit.
Ingredients You Will Need To Make Rolled Fondant:


1 Tablespoon + 2 Teaspoons Unflavored Gelatine
1/4 Cup Cold Water
1/2 Cup Corn Syrup
2 Tablespoons Shortening
1 Tablespoon Glycerine
2 Pounds Powder Sugar
Directions For Rolled Fondant:
In small microwave safe bowl or double boiling pot, combine non flavored gelatine and 1/4 cup of cold water. Let gelatine sit in cold water for about 1 minute.
Start melting the gelatine in the water either in a microwave oven or in a double boiler.
Note: Do not let the gelatine boil, you only want it to get melted down.
Once your gelatine is melted, add 1/2 cup corn syrup and melt in. Add 2 tablespoons of shortening and keep over heat just until it starts to melt.
Remove gelatine mixture from heat just before the shortening is completely melted.
Add Glycrine and stir. This is also the best time to add any flavorings or colorings you may want.
Note: If you are planning on using one batch of the fondant for different colors, you can knead the color in the fondant after it has set up.
Next Step:
In a large bowl, pour in approximately 4 cups of powder sugar and create a well in the center.
Pour the gelatine mixture in the center of the well.
With a large wooden spoon, start stirring the gelatine mixture into the powder sugar, working from the center to the outer edge of the bowl. Continue mixing until all the fondant starts to form in a sticky ball.
Place the other 4 cups of powder sugar on a good work surface and place the fondant from the bowl in the center of the powder sugar that is on your work surface.
Continue kneading the fondant into the powder sugar until all of the powder sugar is incorporated into the fondant.
Once you have the consistency of a hard ball, wrap the fondant in a plastic wrap and let sit for at least 8 hours.
When you are ready to use the rolled fondant, make sure you knead it again on a powder sugar dusted surface. You may also use corn starch for this.
You are now ready to start rolling out your fondant for your decorated cakes and cupcakes.
Here is a video on "How To Make Rolled Fondant"

If you are looking for glycerine, you can find it here:
Wilton Glycerin, 2 Ounces
Cook's Tools & Gadgets)