Pumpkin Cake Pops With Vanilla,Lemon and Coconut Cake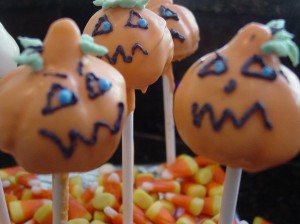 These cake pop pumpkin heads are really fun and easy to make. The cake mixture is not too sweet. This is the same recipe used in the ghost cake pops. It has just the perfect flavor and texture you will fall in love with.
What You Will Need For the Pumpkin Cake Pops:
Vanilla Cake Batter (homemade or box mix)
Lemon Pudding ( you can use pre-made shelf stable pudding, for this mixture I used snack pack lemon pudding)
Shredded Coconut
Professional Cake Decorators Icing
White Coating Chocolate
Rectangular Baking Pan (9×13)
Parchment Paper
Cookie Sticks
Black Food Color
Blue Food Color
Green Food Color
Orange Candy Color
Styrofoam Block or Cake Pop Stand


Directions To Create The Pumpkin Cake Pops:
Pre-heat oven to 350 degrees.
Prepare vanilla cake batter from scratch or by using a box mix. Box mixes are fine to use.
Bake cake batter in 350 degree oven in a 9×13 baking pan.
Let cake cool and then prepare the cake by first scraping off the top film layer.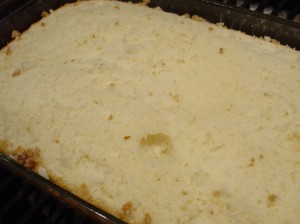 Removing the skin from the cake will help avoid getting a freckled look in your cake pop mixture. Once you have scraped the top of the cake " removed the skin", start crumbling the cake in a larger bowl. Add 3.5 oz lemon pudding,1 cup icing, and 1 cup flake coconut.
Note: You can mess around with the amount of icing and pudding for the consistency you like. Do not put in too much more of the flake coconut as this may break up the cake pop mixture when inserting the pop sticks.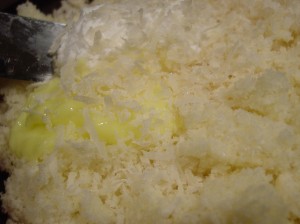 Incorporate the cake, coconut, lemon and buttercream icing. Keep mixing until the mixture is the consistency of play dough.
Start forming round balls by rolling in the palms of your hands. You can also use a small ice cream scoop if you prefer.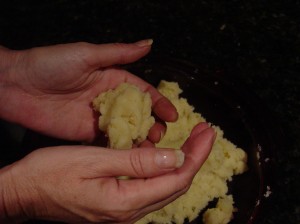 Once you have all of your cake balls rolled up, place them on a sheet and pop them in the refrigerator for about 30 minutes. This will help them to firm up just enough for the detailing.
Remove from refrigerator and start detailing the grooves for the pumpkin and placing the vine top. You can use a wooden stick to do this.To place the top on the pumpkin head, poke a hole in the top and insert a small piece of dough in the hole to hold it in place. Start creating the grooves by rolling the stick from bottom of pumpkin to the top as shown here.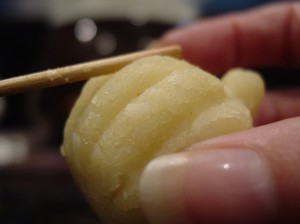 Be gentle while doing this. The dough is easy to work with but you may have to manipulate it here and there.
Place back in the refrigerator for another 30 minutes to firm back up for dipping.
While your pumpkin pop heads are firming up, start melting some white chocolate in a double boiler or over a crock pot.
Important: When working with white chocolate, you must not rush the process of melting it. If you are using Wilton melts verses a more expensive coating, you will find it will take even longer to get the consistency correct. Be certain to use a double boiler or a crock pot with water in it. Keep the crock pot on low and be certain there is an air cushion between the water and the bowl that the chocolate is in. Do not let any water get in the chocolate or it will be ruined.
Once your white chocolate has melted, color it with orange candy color.
Remove pumpkin cake pop heads from the fridge.
Insert pop stick in the bottom of the pumpkin pop and get ready to dip in orange colored chocolate.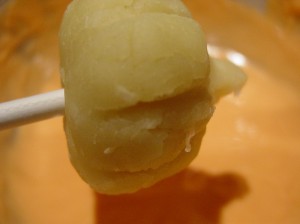 You may need to use a large spoon to help cover the cake pops while dipping.
When your pumpkin head is covered, let excess chocolate drip off a bit and then place the pumpkin cake pop in styrofoam holder.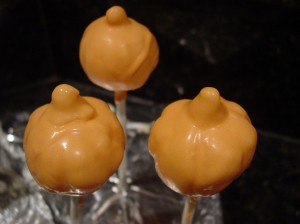 Using black colored buttercream icing, start piping on the jackolantern eye's, mouth and brows.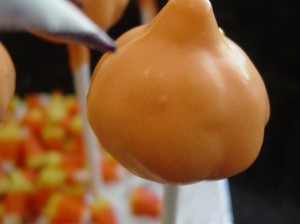 Using the blue colored buttercream icing, fill in the eyes. Of course you can use any color you prefer.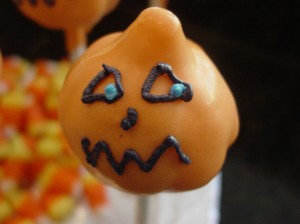 Using green colored buttercream icing, pipe on leafy tips at the top of the pumpkins head.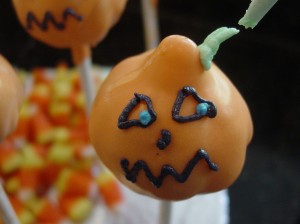 Get as creative with these as your mind will take you…

Cake Pop Books
Feel free to leave a comment or ask a question here.