These Princess Cupcakes are adorable and are so wonderfully presented by our Featured Cupcake Artist, Chandi Kariyawasam.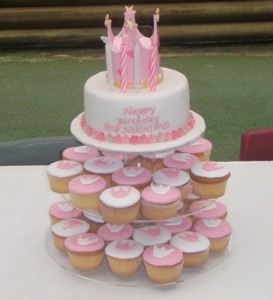 We absolutely love these princess cupcakes along with the round princess cake and princess crown to top off this beautifully crafted cake.
What little princess wouldn't be filled with joy to have this cake on her birthday!
Chandi, sent this to us along with a few other pictures of her cupcake collection.
While we would like to show them all in this article, we are going to feature them separately.
Chandi is a group member in Cake Decorators Rock on Facebook and has some incredible edible and gorgeous cakes and cupcakes posted.
We love the cupcake and cake stand as well. It is simple and shows off the product really well.
Beautiful Cupcake Stands
on Amazon.
Here is what Chandi let us know about herself!
Inspired by my daughters beautiful 1st Birthday cake just 3 years ago, I could not help myselft spending hours learning and trying to decorate my own cakes and cupcakes…the results were'nt dissapointing…!!! Now I m not only doing cakes for my family and friends but so many other customers in and around Sydney…

I am proud with myself for each and every cake that goes out the door and humble and honoured to hear the exitement comes in return from a truly satisfied customer.

That to me worth a million dollars…!!!

You can visit Chandi on her Fan Page! Everybodyluvscupcakes right here
http://www.facebook.com/pages/Everybodyluvscupcakes/122434841195923

To view her gallery, visit here
http://www.facebook.com/media/set/?set=a.122444997861574.18809.122434841195923&type=1&l=a25ef09665