Monkey Cupcakes made with Nilla Wafers and love!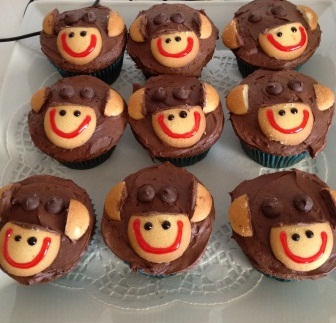 Monkey see Monkey do… Oh, I just couldn't resist.
These fun and easy to create Monkey Cupcakes are the work of Featured Cupcake Artist, Olivia.
Olivia did a fantastic job on these and they are just so darn cute.
One thing that we really think is very cool is that this cupcake artist is one the our youngest artist we have featured to date.
Chocolate and Vanilla cupcakes with chocolate yummy icing and the use of some Nilla Wafers make these little monkey cupcakes one our favorites for the clever and easy cupcake.
Olivia shared with us how she made these cuties.
I made basic chocolate and vanilla cupcakes and a milk chocolate frosting. For the nose I took a regular sized nilla wafer and cut off the top to make is straight across, and mini nilla wafers cut in half for the ears. The smile is buttercream frosting died red, the eyes are the same but died black. I used regular sized chocolate chips for the eyes. It took me about an hour to do all twenty four. I just started getting serious about baking in the past year, and being only 16 when I graduate high school I would like to eventually open my own bakery. 
Olivia did send us a profile picture but we are advocates on protecting the youth online.
We want to wish Olivia the very best and root her on with her dreams of opening her own bakery one day!
Great Job Olivia!