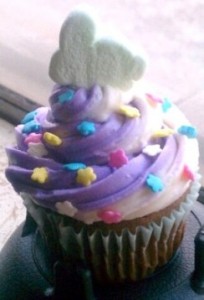 Cute, simple and sweet. This marshmallow bunny topped cupcake is perfect for a last minute Easter cupcake idea.
Yummy purple colored buttercream icing with star sprinkles and a cute marshmallow bunny sitting on top adorns this chocolate cupcake.
This Easter cupcake idea was sent in to us by Lindsay of Stars and Skulls Cupcakes.
Lindsay will be added to our list of Featured Cupcake Artists as soon as we get more information about this new and upcoming cake decorator.
Lindsay also sent in some more cupcake ideas for other holidays that we will be posting as well.
Keep your eyes open for her big feature in the next week or so….
What we do have on hand for you right now is her website and her FB fan page.
To learn more about Lindsay and Stars and Skulls you can visit her at:
Http://StarsNSkullsCupcakes.Blogspot.com
Http://Facebook.com/StarsNSkullsCupcakes
Thanks Lindsay… Your badge is being emailed to you!
Welcome to the family at DCI:)



Get on The list and get updated!