These cupcakes are Margarita flavored so your children will not ingest any alcohol. We discovered this recipe on Youtube from Wilton.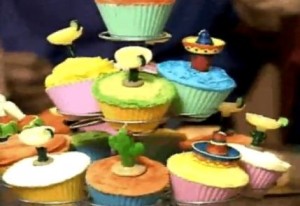 How to make Margarita Flavored Cupcakes:
Start with a box of white cake mix. Prepare the box mix as instructed replacing the water with Frozen Margarita Mix that has been thawed out. For an extra kick, take the zest of a lime and add to the cake batter.


Bake at 350 for 10-15 minutes.
Color your frosting in nice shades of greens, yellows and pinks.
To decorate you can use a dip the edges of the cupcake in colored sugar and top with a lime slice or wedge.
In the Video below, the Wilton team shows different types of cupcake toppers you can use as well that are really cute.
Related Articles On Margarita Flavored Cupcakes:
Margarita Cupcakes for Cinco de Mayo | Hoosier Homemade
I baked the cupcakes right in the Margarita glass, and the Cinco de Mayo Cupcakes are topped with free printables from TomKat Studio. The Margarita Cupcake recipe starts with a cake mix…you all know I LOVE quick, easy but spectacular! …
Publish Date: 04/30/2011 12:04
http://hoosierhomemade.com/margarita-cupcakes-for-cinco-de-mayo/
Baking and Cooking, A Tale of Two Loves: Margarita Cupcakes and …
I would be the one under the umbrella, with my sunscreen on:) I made Margarita cupcakes, complete with tequila. Now these cupcakes are wonderful with a luscious limey flavor with a hint of tequila, not a strong flavor, but enough to ..
Publish Date: 04/27/2011 8:14
http://bakingandcookingataleoftwoloves.blogspot.com/2011/04/margarita-cupcakes-and-tornadoes.html
Want More Great Cupcake Ideas Sent To Your Email?