Lori Arpey: Featuring Her Beautiful Bumble Bee Cupcakes!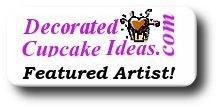 These adorable little Bumble Bee Cupcakes are just so sweet and colorful.
I've been keeping up with Lori and the progression of her work. She is new to fondant creations and is knocking it out of the ball park fast.
I first viewed Lori's work on our Facebook Fan page and instantly became internet buddies with her. Her dedication to the craft is apparent and her love for decorating and sharing her work is heart felt.
You will find that she is a wonderful mom that gets her daughter Emily involved in the craft as well. This is wonderful to see and it's my guess that in the future miss Emily will be featured for her accomplishments as well:)
Lori's Story:
I have been decorating cakes for over 25 yrs.  I just recently started selling them.  I have only been doing fondant cakes for about 2 or 3 mos.
These cupcakes are the ones I made for my daughter to bring to school on her birthday

they were VERY easy to do.
Here's How Lori Created The Bumble Bees Cupcakes:
I made the bumble bees  two days before from fondant.
First make a small oval shape from yellow fondant.
Next: Make 2 small black fondant strips for the stripes and attached them to the yellow ovals.
Next, use Wilton tip #2; "You can use the bigger one if you'd prefer, to cut out eyes from black fondant. You may need to use a tooth pick to poke them out of the tip.. I also used the bottom half of the other end to make the imprint of a smile.  I found this worked PERFECTLY."
Next,  shape two small ovals from white for the wings.  slightly pinch one end and fasten to the top of bee.
Your Bee is Finished!
To decorate the cupcake.. I used  one of the star/drop flower tips with green around the outside.  For the center flowers, I used a drop flower/star tip. "I can't remember which one, but you can use whichever one you want depending on what flower you'd like in the center.  These were soooo easy to make and so much fun. My daughter's class LOVED them.  Have fun with them.
Want More Great Ideas?