We are proud to have Jamie Cappelletti from "Creations Bakery" in Cumming, Ga. as our newest Featured Cupcake Artist!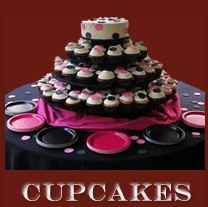 I met Jamie at her cake decorating and supply shop a few weeks ago while on my "drive by" cupcake ideas mission. I do actually get out an away from the laptop every now and again….
I noticed the sign for her shop the week before I had the time to stop in and snoop around for cupcake ideas to share with you all. Finally I had an extra hour out of my morning to do my sneak attack "as I sometimes do" and talk to the owner and cake decorator of the shop. I am actually chuckling a bit as I write this article just reflecting on the suspicious look on Jamie's face when she came from the kitchen to see who was asking for her. "Pretty sure she thought I was trying to sell something"… Sorry Jamie.
Anyhow, I did see her website with a few cupcake pictures on it a few months ago and since her shop is not too far from my office I had the drive by sort of scheduled without a date:) Her site shows some cool cupcakes so yep, I was on it like a topper on a cake.
After letting Jamie know who I was and a bit about our little cupcake site, she agreed to send me some pictures of her work… I still think she didn't quite get it that what we do is purely from the heart. I think she does now:)
You are going to see quite a few posts in the near future on different decorated cupcake ideas from Jamie but for today we will show just one out of the set she sent me. These are too cute to toss up in just one post!
About Jamie and Creations Bakery:
"Creations Bakery, formerly Party Art, in Cumming, Georgia was purchased by award-winning Pastry Chef/Chef Jamie Cappelletti in October, 2009.  Her passion: Food, Creativity and Making Customers Happy! From our trendy cupcake towers to wedding, and all occasion cakes-custom cupcakes and cakes are the heart and centerpiece of any event, and they just so happen to be our specialty! Every piece is a unique work of art from design to finished product at Creations Bakery!  We also have cake decorating classes, birthday parties and a full line of retail products for your baking, candy making and decorating needs in our retails supply store!"
Creations Bakery Pretty Pansy Cupcakes…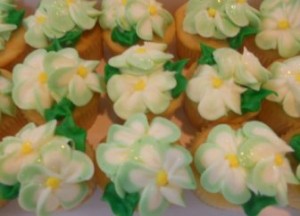 Two tone colored buttercream pansy flowers on vanilla cupcakes.
Are these pretty or what?
If you live in Forsyth county Ga., Be sure to stop by and say hello to Jamie and her   cake artists.
Creations Bakery
101 Meadow Drive
Suite E
Cumming, GA 30040
Want More Great Cupcake Ideas?


Sign up for all the updates right here…