Looking for Easter Cupcake Ideas? We've got you covered with some fantastic cupcakes to celebrate Easter with. There are absolutely hundreds of creative cake decorators on the many cake and cupcake forums I visit and have found some of the most amazing cupcakes for Easter this year. What really caught my eye this year for Easter cupcakes are the festive stands and cupcake liners the decorators are using for their fantastic treats to be displayed in!
This Bunny Stand For Easter Cupcakes Is Adorable!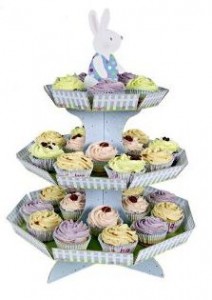 This is one of my favorite stands for the Easter cupcake displays. I found this one on Amazon while hunting down Easter egg pans and liners. I think it would look super cute with the mini egg cupcakes verses the ones they show in the picture.
I also think it would look really nice to put the mini egg cupcakes on the stand and surround the stand with the Easter basket cupcakes. Still, the stand is totally cute!
The little Easter bunny on the top reminds me of an Easter card I got from my mom when I was a small girl. I still have the card to this day…
This stand is from Meri Meri… They have a ton of cool and unique items for Easter as well as other holiday party theme ideas.
Here is the link to Amazon To check it out 🙂
>>>Meri Meri Cupcake Stand Easter Bunny<<<
Here are some more cool Easter Cupcake items I thought you might like:
Check Out These Easter Cupcake Idea Videos!


Want More Great Cupcake Ideas Sent To Your Email ?