Beautiful Buttercream Chrysanthemum Cupcakes by Cupcake Artist TengSern Peh.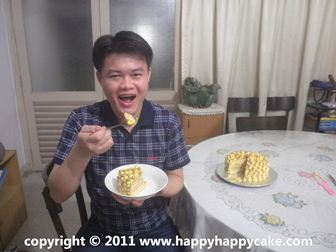 Featured cupcake artist TengSern Peh, is one of our newest family members here at DCI. We all fell in love with this talented individual and his infectious smile he displays in his photos and on his videos he creates.
TengSern has been hitting it big in social groups on the internet as well as creating a buzz on Youtube with his cake decorating tutorials.
His most recent video is on how to pipe a buttercream Chrysanthemum on a cupcake.
We first noticed TengSern in the Facebook group Cake Decorators Rock, where some of most talented cake decorators have been choosing to hang out in lately. TengSern joined the group by invitation from one of the more active members, Shannon Lee Palmer, also an incredible cake decorator.
We asked TengSern to tell us a bit about himself in his own words. We kept his writing as he wrote to us so we can all feel as if he were here speaking in person. We just love this guy!:
I like to decorate cakes, play guitar, listen to music, & many other things.

I like to decorate cakes since I was a kid! Cake decorating is so fun! I like it so much! I attended a baking course & a cake decorating course few years ago, the 2 courses were so fun! I learned a lot of things from the 2 courses!

Attending those 2 courses was like a dream came true to me.

After completing those courses, I began to create some cake decorations that are of my style, It's very EXCITING to create your own cake decorations! Haha!

One of my favorite things in cake decorating is buttercream Rose piping! It's so special & fun! I like to pipe buttercream Rose so much! I really fall in love with buttercream rose piping!

I like to play guitar too, especially electric guitar! Wow, the sound is so great! My favorite guitarists are Steve Vai, Eric Clapton, Yngwie Malmsteen, Jimi Hendrix, Paul Gilbert, & many other great guitarists! They are so good in their guitar playing, each of them have their own unique style! We have to practice our guitar day & night if we want to become great like them.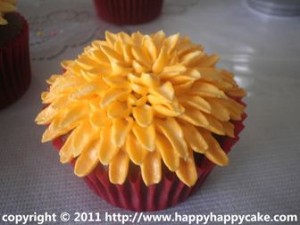 Simply beautiful Chrysanthemums. TengSern shows how easy it is to create this elegant Chrysanthemum Cupcake piped with buttercream icing.
How To Pipe A Buttercream Icing Chrysanthemum Cupcake
For more on TengSern Peh, Visit:
You can also visit him on Facebook 
Please feel free to leave a comment below for TengSern.