Caramel Filled Chocolate Cupcake Using
T. Marzetti's Caramel Dip!
Talk about easy peasy cupcakes that are so delicious and almost sinful!
These cupcakes are a real crowd pleaser for those that love caramel, chocolate, cream cheese icing and walnuts!
They also super easy to make and are beautiful to look at.
What You Will Need To Create The Chocolate Cupcakes With Caramel Filling And Cream Cheese Icing:
Chocolate Cake Batter ( Box Mix or Homemade )
Cupcake Baking Pan
Cupcake Liners
T.Marzetti's Caramel Dip
Walnuts (optional)
Parchment Paper
Cupcake Lace Wraps (optional)
Directions For The Chocolate Caramel Filled Cupcakes:
Pre heat oven to 350 degrees.
Prepare Chocolate cupcake per cake mix instructions
Fill cupcake liner about half way full with chocolate cupcake batter.
Spoon in a plop of the caramel dip. You can scoop it right out of the container.
Spoon or pour on more chocolate cake batter over the caramel dip to cover it.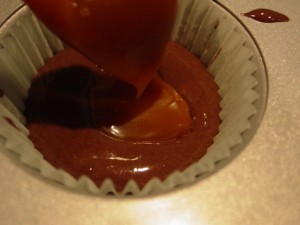 Bake in 350 degree over for approximately 18 minutes.
Let cool and then ice with cream cheese icing.
Top off with walnuts and drizzle some more heated caramel over the top of the nutty top.
If you want to really dress these up, you can use a cupcake wrapper. I found this one online on amazon from Wilton.
Wilton Cupcake Wrappers – Swirls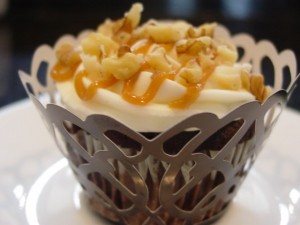 Related articles by Zemanta