These Beautiful Blue Butterfly Cupcakes are the creation of our "Featured Cupcake Artist" Michelle Gaulter.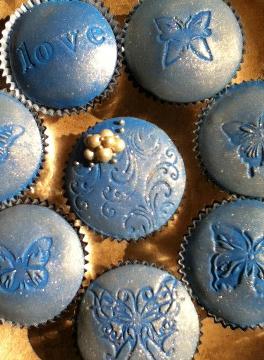 Michelle is one heck of a talent and has many incredible works of cupcake art as well as other wonderfully decorated cakes to view.
We first came across Michelle and her work on the facebook group "Cake Decorators Rock" where you will find the worlds most talented cake decorators coming together to share their creations and knowledge. Michelle is a big participant in the group and is admired for her work.
We invited Michelle to show off her work here as one of our newest featured cupcake artists and we are so very happy she has joined our family of cupcake rock stars!
Here is a bit on Michelle and how she created her awesome blue butterfly cupcakes along with the filigree and love cupcakes.
I have been baking and decorating cakes and cupcakes for at least 5 years with my passion of baking and art coming together. These cakes were made using my favorite chocolate cupcake recipe, They are spread with a thin coat of Buttercream, then a disk of imprinted fondant is added along with a touch of gold luster.
You can find more of Michelle and her work of Facebook at The Cake Wrench
Let's all give some cupcake love to our newest family member here. You can do that by leaving a comment below.
Looking for the Butterfly Stamps? We found them for you! First Impressions Molds Silicone Mould – Butterflies – 6 cavities