O.k, everyone, I found the Big Top Cupcake, Cookie and Donut Set today on Amazon.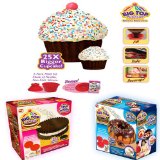 I have been following the reviews on the Big Top Cupcake silicone pans and they are all really good. If you go to the Big Top site, you can get the deal on the cupcake pans. Two for one; but I noticed it takes something like two weeks to get them. It's a good deal but they get you in the shipping. You get the extra one for free but you still have to pay for shipping on it.
So, when I saw the "Get All Three Silicone Baking Molds", I did the math and it is a much better deal.
Why?
" Because You Get Free Shipping on orders that over 25 bucks with Amazon:)"
This is a great buy for the price. The Big Top company has been on the move with the silicone products and are getting some really great response and reviews on how the silicone bake-ware holds up. I did a full research on silicone bakeware and found that it is not only durable but is also better to bake with due to the materials used in silicone verses metal.
Here's what I personally like about baking with silicone:
You don't have to butter it down and flower it
You don't have to use pan coating
It you scratch it, it won't emit harmful chemicals in the air
It doesn't rust
It wont break or chip on you
Clean up is easy
You can freeze it and refrigerate it
Your children can grab a pan for you and if they drop it on their little toes it won't hurt them:)
Here's My Video Review On Big Top Cupcake Pans:
Want More Great Ideas?